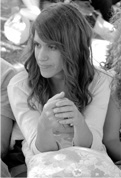 Eleyor(Ori) Snir is a Children's Book Illustrator, Fine-Artist and Designer.
Born and raised in Israel.
Mother to four. Currently living in Nelson B.C.
Eleyor Snir studied in Vital Art Institute in Tel Aviv, majored in illustration and design.
She illustrated 15 published titles together with her mom Mirik Snir.
One of their books was published in the USA by Karben and later also by P.J. Library. This book- "When I first held you" received wonderful reviews and won the Gold medal given by the National Parenting Publication Award (Only two weeks after it was first published).

Eleyor has a unique style of naive and vivid illustrations. She is an open-minded artist, had worked in various mediums and continues to grow in her field.
For many years, Eleyor was invited to schools and kindergartens to meet with children, parents, and teachers to teach them about books and illustration.
Today she works from her home studio on book illustrations, stationery products, ketubah and wall art.